In swimming and sports, many coaches associate lactate and lactic acid with fatigue. Unfortunately, lactate is a scapegoat! During a fatiguing event, many physiological processes occur (and increase in lactate being one), yet little is mentioned about the other processes.
Lactate may get a bad wrap, as it is currently the standard for measuring fatigue, but lactate is likely associated, not the cause of fatigue. For swimming, Dr. Ernest Maglischo has written an excellent piece about the pitfalls in the lactate theory. He even breaks down many of the possible causes of fatigue (find this article in VO2max is not Important for Competitive Swimmers).
One point Dr. Maglischo discusses is how lactate is actually a substrate used to create energy. This small piece of the puzzle is the topic of today.
A recent study from the University of Hull in the United Kingdom looked at the effects of giving cyclist sodium bicarbonate (baking soda) or lactate prior to a 40-km cycling time trial. This study by Northgraves et. al. (2013) had
"[s]even recreationally active males (age, 22.3 ± 3.3 years; height, 182.5 ± 6.5 cm; body mass, 79.2 ± 6.3 kg) completed five 40 km cycling time trials, including a familiarization trial in a randomized blind double placebo design. Subjects ingested either 1.) 300 mg per kg body mass NaHCO3 (BICARB), 2.) 45 mg per kg sodium chloride (PL-BICARB) as the placebo for the NaHCO3 trial, 3.) 21.5 mg per kg body mass lactate supplement (LACTATE) and 4.) plain flour as the placebo for the lactate trial (PL-LACTATE) 60 minutes before exercise."
The results of this study showed no differences in performance between groups, only a higher heart rate in the lactate supplementation group. Though this is one study, it highly suggests an increase in lactate does not cause fatigue (no improve performance). Therefore, more variables are involved in the role of fatigue. This multivariable process requires much more research, but it seems lactate is not the main culprit of fatigue.
Reference
Northgraves MJ

,

Peart DJ

,

Jordan C

,

Vince RV

.Effect of lactate supplementation and sodium bicarbonate on 40 km cycling time trial performance.

J Strength Cond Res.

2013 May 8. [Epub ahead of print]
On my vacation, I had the luxury of reading and came to the conclusion, measuring VO2max is not important for competitive swimmers. I know this is a bold, hellish statement and one which is not perfectly supported. Moreover, it is never smart to say something is useless, well at least in the world of science. However, the more I learn about VO2max, the more I realize it is only applicable in high volume swimming practice, not a meet, practice. As we all know, no medals (at least important ones) are handed out in practice.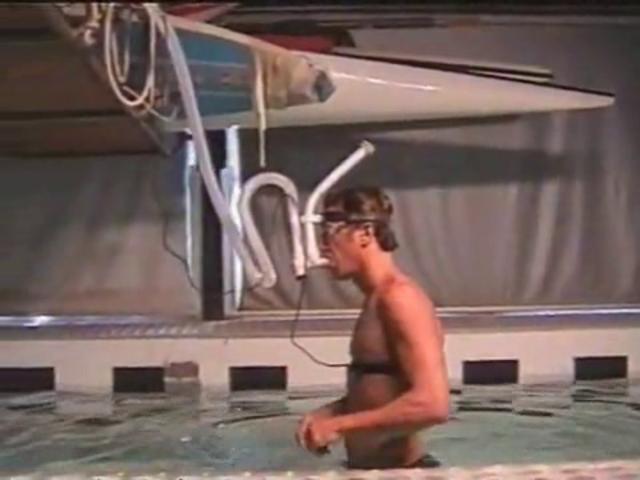 Two readings specifically to swimming have supported this thought that VO2max is not important to swimmers:
Dr. Rushall has been dismissing VO2max for sometime. Dr. Rushall has radical views in the minds of many traditional swim coaches, but let's think about it. The majority of swim races last for approximately :20 – 2:00. However, reaching VO2max takes approximately 10 minutes in most testing procedures. As a result, the metabolic demands of VO2 max testing aren't related to the metabolic demands of races. Also, the cyclic nature of swimming (alternating resting and moving body segments) and lack of gravity in the sport of swimming decrease it's demands, making VO2max occur even later. Instead, Dr. Rushall advocates the importance of race pace and motor programming, an important aspect of training.
To confirm, Dr. Maglischo, another pioneer in the sport, also questions the use of VO2max. His argues, VO2max is not the limiting factor of success as there is always oxygen in the circulating blood. However, Dr. Maglischo discusses the importance of mitochondrial density as the limiting factor in his great paper on Lactic acid and muscular fatigue. His point confirms the importance of oxygen, however, oxygen itself is not the limiting factor, instead the ATP-generating mitochondria that prevent further oxygen from reaching the muscles.
Overall, it is hard to completely dismiss the importance of oxygen for exercise, especially in anaerobic races. However, it does seem VO2max is not as vital as once thought, therefore it is time to question previous facts in the sport. Too long have myths in exercise science been passed along the swimming community, for these reasons it seems that improving VO2max should not be a goal of competitive swimmers!